Timeouts are lightning-quick interviews. Five questions to help you get to know the players holding court at Dribbble. Many thanks to Jesus for being today's interviewee.
Who are you? Let us know where you hail from and what you do.
Hi there! My name is Jesus Cardenas and I currently reside in South Florida where I hold a full-time position as a graphic designer at a local company. I don't really share my work, because it's mainly grunt work (you know, someone has to do it). In my spare time you could find me playing soccer, watching movies, or working on my 1967 Chevy Nova. Sometimes you need time away from designing to refresh the mind and get re-inspired.
What are you working on?
I've been drawing out plans for a wood desk that I plan to build out of cedar wood and electrical metal conduit. As for digital projects, I'm working on a couple of freelance gigs involving icons and logos (my passion). I also have a secret romance with user interface design and typography. I'm currently re-designing my website and trying to improve my portfolio.
Choose a favorite shot of yours. Tell us why it's a favorite.
A favorite shot of mine would have to be the San Francisco badge. I vacationed there a couple years ago and I still can't get believe how beautiful it was! If things fall into place, I definitely want to move there with my wife and meet all the local rock star designers.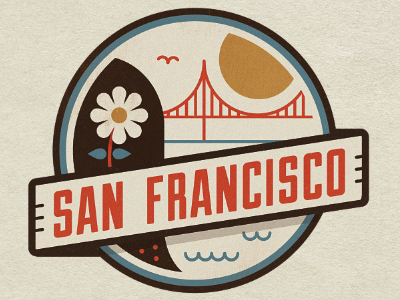 Tell us about your setup. What tools did you use to create the shot(s)? (e.g. hardware, software, pens, paper, blowtorch, etc.)
I use a black paper mate pen, small sketchbook, Illustrator, Photoshop, Wacom3 tablet, iMac, and a good ol' cup of coffee.
Choose a favorite shot from another player. Tell us why you dig it.
Man! I browsed around for a while and found Karma Cafe by Simon™. I love how he broke the symmetry of the circle with such well-balanced, asymmetrical letters. Perfection!