Timeouts are lightning-quick interviews. Five questions to help you get to know the players holding court at Dribbble. Many thanks to Andrew for being today's interviewee.
Who are you? Let us know where you hail from and what you do.
Hi I'm Andrew Power, a graphic designer & illustrator originally from Newfoundland, Canada but currently attending the Maryland Institute College of Art in Baltimore, MD. Last year I decided to leave my job as a designer at an ad agency in Newfoundland and make a huge leap to the states.
What are you working on?
Recently I've been doing a lot of work for LessFilms, creating illustrations, which they then animate into motion graphics. It's super cool to get to see my stuff in motion. I'm also in the middle of an illustration project for RaidReady, a World of Warcraft app, which as a long time player is basically the project of my dreams. I'm also the designer for Busy Building Things, a site that sells posters for makers & Creators. 
Otherwise, most of my time is devoted to school work right now.
Choose a favorite shot of yours. Tell us why it's a favorite.
My favorite shot would have to be my Real Artists Ship poster. Posted on the day Steve Jobs died, somehow it made it to the #2 sot on Dribbble and was all over the internet that week. I had designed it several months previous and didn't even think of posting it until the client I made it for contacted me and suggested I did. I guess he was right.
It's not actually one of my favorite designs per se, but the surprising attention it got makes it my favorite overall.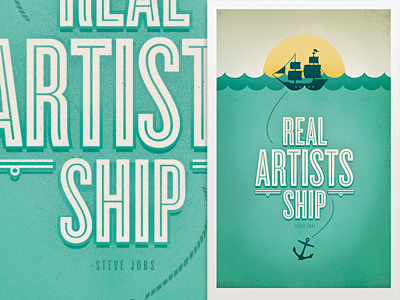 Tell us about your setup. What tools did you use to create the shot(s)? (e.g. hardware, software, pens, paper, blowtorch, etc.)
My setup is very simple, I do everything on my 15" Macbook Pro with my little 4x6 Intuos and am completely mobile. Most of the work I do now is done between classes on the MICA campus.
Although the Real Artists Ship poster looks simple, it has so many layers! I start with very limited sketches, drawing out the anchor and the boat roughly and "scanning" them by holding them up to my camera and taking a picture with photobooth (professional). The rest of the image was simple enough to just freehand in illustrator with the pen tool. After all the flats are laid out, I bring it into filters, vignettes, and even do some really subtle dodging and burning. My illustrator files always end up being too restrained in color, so I'll play around with saturation and contrast until I get the intensity I want.
In some of my work once I bring the flats into photoshop, I'll take a textured brush and outline the crisp vector lines to make them look rough and hand-drawn.
I live in a dorm, so my "studio" is also my bedroom. Unfortunately, I don't have the luxury of being allowed to paint the walls, I would never choose beige.
Choose a favorite shot from another player. Tell us why you dig it.
I've been on Dribbble for over two years, so this is incredibly difficult. But I think I have to pick something from DKNG studios. This triptych poster series they did for Phish is so amazingly complicated and detailed, but everything still manages to be perfectly placed and balanced. Also totally digging the colors, it's the kind of scheme I would love to do but am always afraid of.