Timeouts are lightning-quick interviews. Five questions to help you get to know the players holding court at Dribbble. Many thanks to Dave for being today's interviewee.
Who are you? Let us know where you hail from and what you do.
My name is Dave Mott(ram) from Youngstown, Ohio (it's between Cleveland & Pittsburgh). Mostly, I work on children's book illustrations and character development. I compulsively sketch and haven't been able to stop lately. I love artists like Wayne White, who try EVERYTHING. Granted, I think he does everything amazing, but it reminds me to challenge myself constantly. It's humbling, and humbling is always a good thing.
What are you working on?
I just wrapped up a kid's story for National Geographic kids based on Buddhist parables, with the animals making up the main characters. It was a great chance to work on illustrating a life lesson.
I have recently been hired full-time by Duck Duck Moose to work on apps and games for kids. My 3 year old daughter has been a boss, she gives me direct advice on what works and what becomes crayon fodder.
Choose a favorite shot of yours. Tell us why it's a favorite.
Mixtape is my favorite because it represents a step toward making things work simply. I had started using hand-made textures and applying them, but I wasn't using shapes or composition well.(Always learning) I did this one as a self-initiated job to take that 400 x 300 rectangle and work within it. I put up self-initiated shots to help me focus on things like that.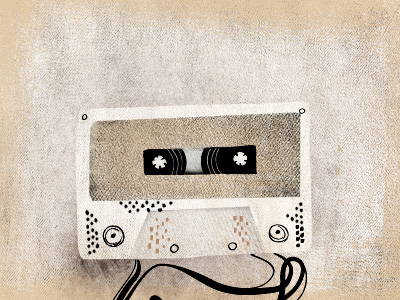 Tell us about your setup. What tools did you use to create the shot(s)? (e.g. hardware, software, pens, paper, blowtorch, etc.)
My setup is pretty simple, I have started migrating some things to the garage. Oak slab drawing desk, pencils, blenders, paper towels, sandpaper, pastel pencils, charcoal, ink, lots of paper and sketchbooks. Digital tools are just a laptop and tablet. As far as software, I use Illustrator, Photoshop, Painter, and Manga Studio. If the opportunity arises to use a blowtorch, I'll embrace it.
Choose a favorite shot from another player. Tell us why you dig it.
Loads of talent up on Dribbble. I have a long list of artists who are inspiring to me. Here's one of my favorite shots by Ping Zhu: Twin Peaks zine. I love this shot because I believe she is phenomenal at capturing movement and texture. I see this in all her work, such an amazing artist. Also, I love well executed black and white shots like this.