Timeouts are lightning-quick interviews. Five questions to help you get to know the players holding court at Dribbble. Many thanks to Mc for being today's interviewee.
Who are you? Let us know where you hail from and what you do.

I'm Mc Baldassari (full name Marie-Clémentine). I'm a freelance artist/illustrator from France, been living in Montreal for more than 5 years. I studied industrial design in France and at the University of Montreal. I graduated 2 years ago after which I took the arts path for the love of drawing, but my techniques and creative process have been much influenced by those studies. I like to expriment and hijack traditional tools (color pencils or ink) on all kinds of supports, but I enjoy as much creating using digital tools. I'm a big fan of antique images and objects, as they have lived through out the years and have a story of their own, which makes them unique. I now work on different kinds of illustration contracts, but the biggest part of my work remains working on my own pieces.
What are you working on?
I recently worked really hard on my first solo exhibition which took place last month. I also just finished a special piece for a collective exhibition "Montreal Zoo". I tried to do something a bit different and so I have to say this piece really gave me a hard time!
I also have an illustration gig since this summer for the farmers' market "Marché Frontenac" in Montreal. I've been having fun illustrating fruits and vegetables on all kinds of surfaces (paper, walls, trucks and fabrics). This is a really cool contract, making me explore new styles and tools. I'm also regularly working with the Montreal-based multi-artist collaborative drawing project "EN MASSE".  
It involves different artists working together on black and white murals. One of the last big project I took part of was covering the walls of a huge room at the Montreal Museum of Fine Art. This project is not available on their website yet but I invite you to see the incredible work here.
Choose a favorite shot of yours. Tell us why it's a favorite.
I'm thinking my "Welcome to my world 2" shot. It's a piece I had lot of fun to work on, because of the freedom I had composing with all kinds of different elements (feathers, flowers, fishes, eyes, etc). I really think it's a way I am going to explore again for my upcoming work. This piece is not available on my website because I haven't found the perfect frame for it yet. I also love it because it's still recent so I haven't gotten sick of looking at it (yet!).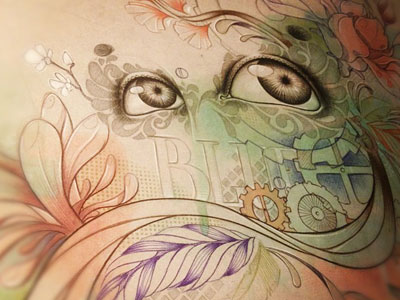 Tell us about your setup. What tools did you use to create the shot(s)? (e.g. hardware, software, pens, paper, blowtorch, etc.)
I'm lucky to have an awesome working environment, which turns out to also be my home. My boyfriend and I are two young freelancers working really hard from our apartment, which creates an awesome creative atmosphere. We obviously both have our own little setup in different rooms, otherwise we would probably go nuts! My favorite working space is my drawing table (which I found in the street 3 years ago). It gives me a good posture to draw and helps me draw bigger pieces. My favorite tool is a basic pencil. After which comes the color pencil (Faber-Castel and Derwent), and the Colorex inks. I also use different kinds of ink pens (Bic, Stabilo, Staedtler, Posca, etc.). I'm most used to working on paper, cardboard, wood, or just about anything that I stumble upon. The rest of the time, I sketch on my desk. When I do digital work, I do it on my MacBook Pro plugged to a 23" screen. I don't have a Cintiq (I wish!) but I'm already pretty happy with my Intuos 4. I use Photoshop a lot, SketchBook Pro a bit and Illustrator almost never.
Choose a favorite shot from another player. Tell us why you dig it.
It's tough to pick just one shot because there are so many crazy talented artists I really dig on Dribbble. Some of my most favorite are Dave Mott, David Lanham, Rogie, Georgi Dimitrov, Marie Bergeron, Anthony Thiebaux. The one I chose is from Jack Page. That shot really shows that he is a perfect drawer, with perfect drawing gestures, completely in control of his hand strokes. It's also the kind of traditional and contemporary style I really like. I appreciate his lines and the way he made the colors so light. A simple lighthouse alone shows you his incredible talent! It's really inspring!