Timeouts are lightning-quick interviews. Five questions to help you get to know the players holding court at Dribbble. Many thanks to Chris for being today's interviewee.
Who are you? Let us know where you hail from and what you do.

My name is Chris Sandlin and I'm an illustrator under the moniker of SockMonkee. I was born in Seoul, South Korea and raised in Georgia all my life. I guess you could say I'm a southern boy through-and-through! I currently work at a marketing firm by day and am a husband, illustrator, and gamer by night.
What are you working on?
I'm always working on new SockMonkee Collection illustrations. For those that don't know, I run the SockMonkee Collection on the side which is essentially an outlet for all my personal creative endeavors.
Choose a favorite shot of yours. Tell us why it's a favorite.
I'd have to say my favorite shot is one of my latest which is Yum Yum Ramen. It's a fun illustration that somewhat embodies an old vintage mascot. I have an all-or-nothing mindset so it was weird breaking away from illustrating an entire body and just using the cup and hand to complete the illustration. I'm overall very happy with how it turned out. It also makes me want to eat a bowl of noodles.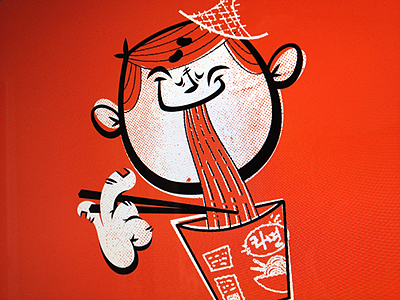 Tell us about your setup. What tools did you use to create the shot(s)? (e.g. hardware, software, pens, paper, blowtorch, etc.)
I basically sketch a rough version of the illustration, scan it in, and click my way to vectored goodness. The main programs I use are Illustrator and Photoshop.
Choose a favorite shot from another player. Tell us why you dig it.
This is my least favorite question as there are too many shots that stand out. I'd have to say my top three favorite shots would have to be the following (in no particular order)…
Skull by Jared Chapman— I really enjoy a lot of Jared's work but I'd love to have a shirt or print of this. He manages to capture a lot of life/character and texture in his brush strokes. I'm not a huge skull fan but I think this captures a lot in a simple shot.
Let's be Friends by Lydia Nichols— A recent shot from Ms. Nichols and what a lovely one it is! The chap's chops sold me.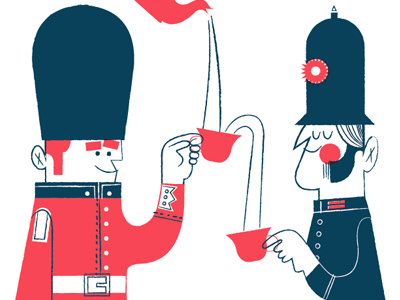 Batsketch by Joey Ellis — Joey's work captures his hilarity and sincere humor. I think it's amazing how he can porty a moment so well. I totally had makeshift Batman, Ninja Turtles, and Ghostbuster costumes as a kid! By the way, if you're not following his Twitter to read his daily goings-on, you should do it.