Timeouts are lightning-quick interviews. Five questions to help you get to know the players holding court at Dribbble. Many thanks to Shaw for being today's interviewee.
Who are you? Let us know where you hail from and what you do.
I am a pretty snazzy illustrator with a knack for coming up with quirky solutions. I started off studying in San Francisco at the Academy of Art and eventually made my way back home to Denver, where I grew up. My work has been featured in Communication Arts, 3x3 magazine, on the cover of HOW Magazine, honored by the Alliance of Illustrators, and the Art Directors Club. It also still makes it on my mother's fridge from time to time. The fact that I'm snazzy is not news to her.
What are you working on?
Oodles of things! I have a few editorial projects floating around right now, as well as some larger projects. Probably the biggest project I'm working on right now is some hall-o-ween displays for a large grocery store chain here in the US.
Choose a favorite shot of yours. Tell us why it's a favorite.
On a professional level, my favorite shot so far has to be my shot of the cover I did for 'How Magazine.' HOW Mag is definitely at the forefront of design, so it truly was an honor to be asked to contribute.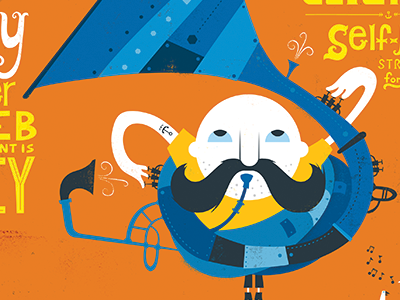 On a personal level, this one takes the cake currently because I enjoy bringing a bit of sunshine into peoples lives, instead of the doom and gloom that can so easily fill up our days if we let it.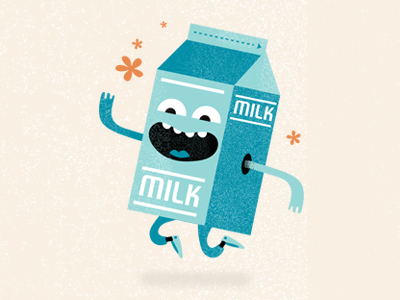 Tell us about your setup. What tools did you use to create the shot(s)? (e.g. hardware, software, pens, paper, blowtorch, etc.)
I always start off a project with oodles of doodling. It's my favorite part of any project because the options are just so infinite at this point. So a sketchbook is always at the heart of my process. I burn through 2 or 3 of them in a month. I usually jump to the computer once the idea has been settled on and just start with a blank art board in Adobe Illustrator, referencing my sketch as I draw with my mouse. Next I'll take my vector art into Adobe Photoshop and apply textures and tweak the illustration a bit to really bring the piece to life.
Though, on a philosophical level, taking a step back to drink a cold beer or to play fetch with my pup, is as much a part of my process as my pencil or computer. I just don't think I could do the work I do without being happy and grounded by reminders of why I love living.
Choose a favorite shot from another player. Tell us why you dig it.
Today my favorite shot is this amazing piece of portraiture by Richard Perez. Though, if you asked me tomorrow I'd have a different favorite. Dribbble is such a great source of inspiration.