Timeouts are lightning-quick interviews. Five questions to help you get to know the players holding court at Dribbble. Many thanks to Anna for being today's interviewee.
Who are you? Let us know where you hail from and what you do.
Hi! My name is Anna Paschenko. I was born in Krasnodar (South of Russia) where most of the year the sun shines and nowadays I guess that it's inside me wherever I'm :) About 10 years ago I moved to Saint-Petersburg where studied at University of Culture and Arts. And currently I still stay here and work as a designer in software company.
What are you working on?
Apart from my daily job I'm always working on small personal projects like icons and illustrations. Every time I'm looking for something new, improving my skills and knowledge. Really love feeling that I move forward and seeing the difference between my old and current projects make me happy!
Choose a favorite shot of yours. Tell us why it's a favorite.
Actually I love all my works and it's quite difficult to distinguish them into favorite-categories :) But ok, let's say that Clothespin is my favorite. I still enjoy this idea. Also it was an important experience working together with my friend and of course, the result exceeded all my expectations.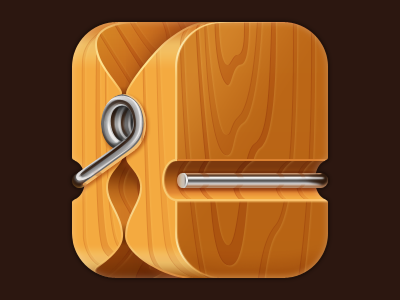 Tell us about your setup. What tools did you use to create the shot(s)? (e.g. hardware, software, pens, paper, blowtorch, etc.)
I need minimum environment to do my work: iMac and Wacom that's my creative factory :) The software I prefer are Photoshop and recent time i use Cinema4d, sometimes Illustrator but mostly as supplier program.
Choose a favorite shot from another player. Tell us why you dig it.
It's yummy Sooshi! And of course it doesn't mean if i'm russian and like caviar, I enjoy every shot with it :) That's really amazing work. I'm excited about getsooshi project of Konstantin Datz and Moritz v.V. and hope in some time I'll be able to make 3d works with the same fantastic quality.