We recently pushed a little feature that's long been requested. You can now gift a year of Pro to any member! Pro enables extra features like advanced search, lists, and message limitation lifting. Additionally, for designers who have been invited to upload work, Pro unlocks nifty stuff like uploading attachments, organizing work into projects, and advanced stats. (Learn more about Pro at our Help Center.)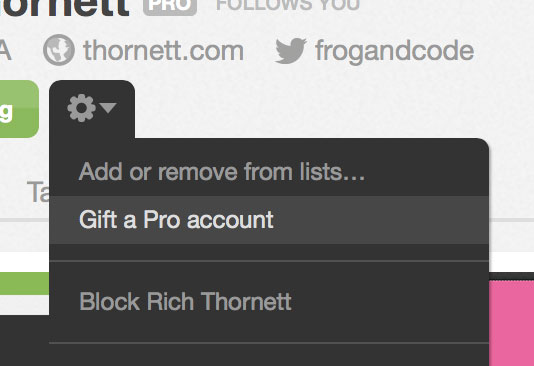 To instantly become a Really Nice Person™ and make someone else's day, just head over to the gear menu on their profile. There you'll see a link to gift a Pro account to them for 1 year. How incredibly kind of you!
Hive fives to Dribbble Developer, Tristan Dunn, for checking this feature off our lengthy wish list.